Puttu or Kerala Steamed Rice Cake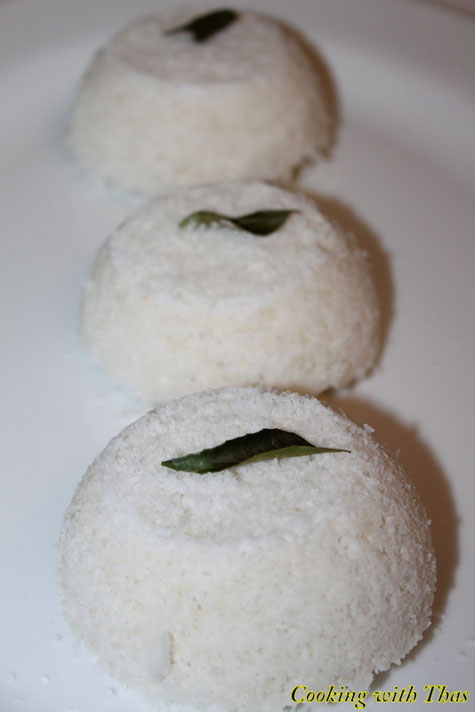 Roasted Rice flour- 2 cups
Water- ½ cup+ 2 tbsp
Grated coconut fresh or frozen-1 cup
Salt- ¼ tsp
In a large bowl, combine the rice flour and salt.
Add the water little by little to the rice flour. Using your hand, mix the water into the rice flour breaking any lumps that forms.
You should be really careful while wetting the rice flour, flour shouldn't turn into dough constituency.
The flour after wetting should still be in powdered form and damp enough so that it will steam well.
After wetting the rice flour, let it rest for 10 minutes.
In the meantime, have the grated coconut, puttu maker and the pressure cooker ready.
Add 1 tbsp of grated coconut as the bottom layer on the puttu maker, layer with 1 handful of wet rice flour.
Repeat this alternating with grated coconut and rice flour until the top of the puttu maker.
Close the puttu maker with its lid.
Fill ½ of the pressure cooker with water, close with its lid and place on medium high heat.
When the steam starts to release through the whistle hole, place the puttu maker onto the whistle hole of the pressure cooker and steam for 5 minutes or until steam starts to release out of the holes on the puttu maker.
Remove the puttu maker from the pressure cooker.
Open the lid of the puttu maker and flip it over onto a plate .
Repeat the same method and steam cook the remaining rice flour.
Serve puttu along with any kind of curries.
Puttu should be served hot, otherwise it will become dry.
If the puttu gets dried, it can be microwaved after sprinkling with little water over the Puttu.
The amount of coconut could be changed according to your needs. More fresh coconut means more taste to the puttu.
Serve with chick peas curry, chicken curry, mutton or lamb curry, fish curry or plantain cooked in coconut milk.
Recipe by
Cooking with Thas - Healthy Recipes, Instant pot, Videos by Thasneen
at http://www.thasneen.com/cooking/puttu-kerala-steamed-rice-cake/