Poori - Fried Wheat Bread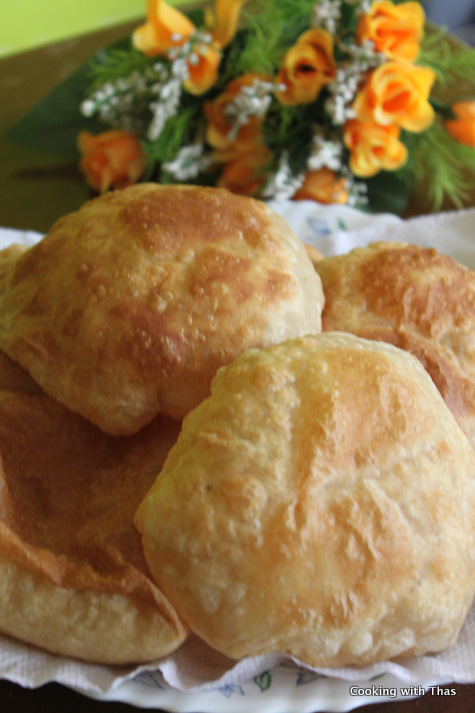 Wheat flour or Atta- 1¾ cups
All purpose flour- ¼ cup (or use flour for making bread)
Semolina or Rava- 1 tbsp
Salt- a few pinches
Water- ¾ to 1 cup
Oil- for deep frying
In a bowl, combine the wheat flour, all purpose flour, semolina, salt and water.
Knead well, the dough should be a little hard. Don't add too much water to make it too soft.
Keep the kneaded dough aside for 10 minutes.
Make small balls out of the dough.
Before starting to roll the dough, heat enough oil in a saucepan for deep frying.
Make sure to have enough oil, the dough should submerge in the oil completely.
Cut a ziplock bag into two halves, make sure the bag doesn't have any writing on it.
Place one of the halves on the board for rolling the dough, grease with non-stick cooking spray.
Place the dough ball on it and cover it with the other bag half and roll the pin over it. This is to prevent the dough from sticking, also you don't have to use any flour to roll the dough.
Roll the dough to small slightly thick round shape.
Don't keep the rolled dough for too long, fry it as soon as you roll it.
To check if the oil is hot enough: drop a small piece of dough to the oil, if it comes to the surface of the oil immediately the oil is hot enough.
Carefully, drop the rolled dough submerged into the oil.
Using a slotted spoon, gently push and slide the spoon all over the dough. This will encourage the dough to puff up.
After it's completely puffed up, flip it over and fry it for a few seconds.
After the poori has turned golden in color, remove from the oil and transfer to a plate lined with paper towel.
Pooris should be served hot to retain the puffiness, it will loose its puffiness when it turns cold.
Pooris can be served with chicken or beef or mutton roast or with vegetable stew or potato masala.
You don't have to add all purpose flour, instead add wheat flour: so total 2 cups of wheat flour.
Recipe by
Cooking with Thas - Healthy Recipes, Instant pot, Videos by Thasneen
at http://www.thasneen.com/cooking/poori-fried-wheat-bread/