Oats and Dried Nuts Payasam - Oats in Sweetened Milk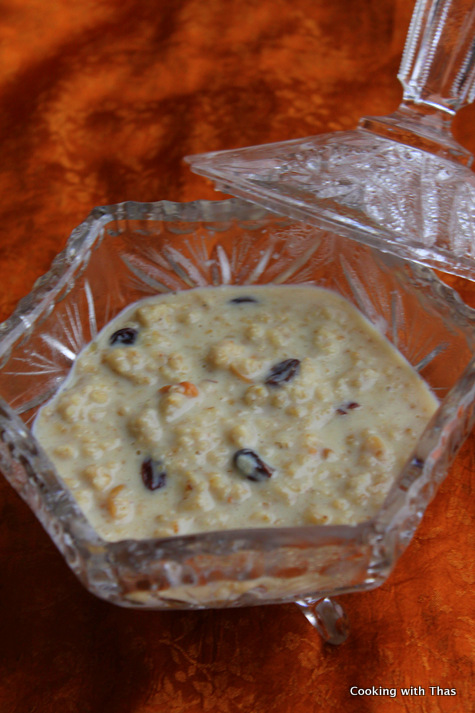 Oats, instant- 1½ cups
Jaggery or brown palm sugar- 5 inch slice or depending on your needs
Water- ¼ to ½ cup to melt the jaggery
Milk- 2 cups
Ghee- 6 tbsp
Cashew nuts, whole- 15
Almonds, blanched and diced- 2 tbsp
Raisins- 2 tbsp
Dates, chopped- 5
Place a pan over medium heat, add 3 tbsp ghee, add oats and roast it in ghee till it turns light golden. Keep aside.
Roast the almonds, raisins and almonds in 1 to 2 tbsp ghee till golden in color, keep aside.
Add the jaggery slices to water, heat it and let it melt completely.
Use jaggery according to your sweet level.
Place a saucepan over medium heat.
Combine milk and melted jaggery together, heat it.
Add roasted oats and keep stirring and cook for a couple of minutes, the mixture will start to thicken.
Add the roasted cashew nuts, raisins, almonds and dates, combine to the oats. Cook for a minute.
If the mixture is too thick, add more milk to thin it down a bit.
Taste and add more melted jaggery if needed.
Finally, drizzle 1 tbsp ghee over the oats payasam and remove the pan from the heat.
Serve warm in a dessert bowl.
I used light colored jaggery, hence the light color of the payasam. Use dark brown jaggery to get a beautiful brown colored payasam.

Jaggery is a must, don't replace with sugar.
Recipe by
Cooking with Thas - East Instant Pot Recipes and more
at http://www.thasneen.com/cooking/oats-and-dried-nuts-payasam-oats-in-sweetened-milk/