Shrimp Tempura Sushi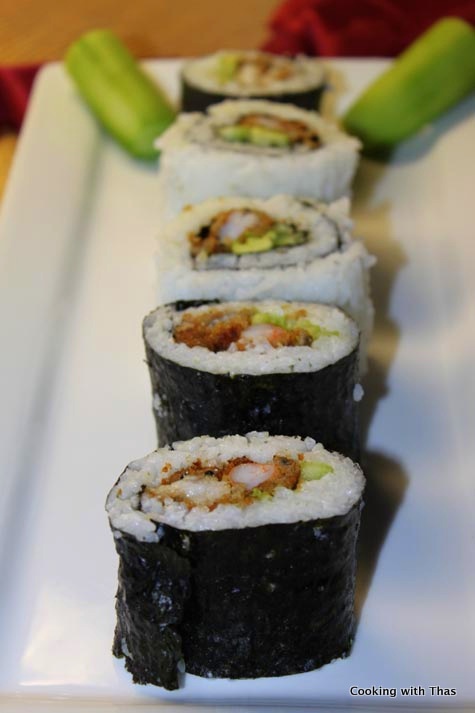 Shrimp, shelled and deveined- 15
All purpose flour- ½ cup
Water- ¼ cup + ⅛ cup
Sesame seeds- 1 tbsp
Oyster sauce- 1 tbsp
Salt- to taste
Oil- for deep frying
Bread crumbs- enough to coat the shrimp
Sticky rice, cooked- 2 cups
Roasted seaweeds
Avocado, cut small
Cucumber, cut thin long
In a bowl, combine flour, sesame seeds, oyster sauce, salt and water to make a thick batter.
Heat a frying pan, add enough oil for deep frying.
First, dip the shrimp in the flour batter.
Then, coat the shrimp with bread crumbs.
Place it in the heated oil and deep fry to golden brown in color.
Transfer to a paper towel and keep aside.
Cook the sticky rice along with salt and water in a rice cooker. Let the sticky rice cool down.
Place the bamboo mat on a chopping board or on a clean counter top.
Place one roasted seaweed sheet over the mat.
On the seaweed, evenly spread the sticky rice. Wet your hand with water and spread the rice so that it won't stick on the hand.
Place the avocados, cucumber and 3 shrimp tempura on one end of the rice layer.
Roll along with the bamboo mat and tighten the roll.
Unwrap the bamboo mat, you will have the rolled sushi.
Using a sharp knife, cut the long rolls into 2 inch small rolls.
Place on a platter and serve with soy sauce and pickled ginger.
You could either have seaweed or rice as the outer layer.