Salmon with Cranberry Chutney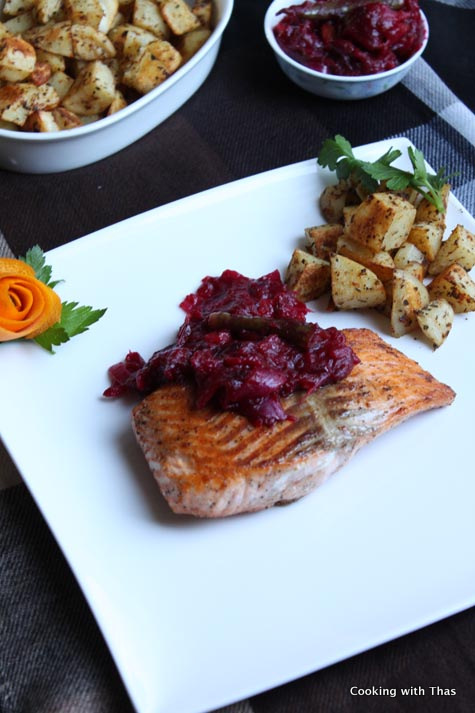 Salmon- 4 fillets
Ground pepper- 1 tsp
Salt- ½ tsp
Olive oil- 3 tbsp
Oil- 1 tbsp
Red onion, chopped- 1
Green chilies- 2, halved
Garlic, chopped- 3 cloves
Cranberries- 3 cups
Orange skin- skin peeled from 1 small orange
Water- ¼ cup
Brown cane sugar or Jaggery- 6 cubes (2 cm or 1 inch) or depending on your needs
Salt- to taste
Marinate the salmon fillet with ground pepper and salt, keep aside for 5 minutes.
Heat a large non-stick pan, add olive oil and place the marinated salmon fillet. Pan fry till both sides of salmon turn light golden brown. Keep aside.
Heat a saucepan, add oil.
Add chopped onions, and a little salt, saute till onions turn translucent.
Add halved green chilies and garlic, saute till onions turn light golden.
Add cranberries and orange peel, combine well.
Add water and cook covered till cranberries are mashed up.
Add a few pinches of salt, combine well.
Add brown cane sugar or jaggery, cook covered for a few minutes till it has melted.
Have a taste, if the chutney is bitter add more cane sugar or jaggery till the chutney becomes slightly sweet.
Before serving, discard the orange peel and green chilies from the cranberry chutney.
While serving, place the salmon on a plate, serve the cranberry chutney over the salmon. As a side serve oven roasted potatoes, mashed potatoes or steamed veggies.