Jaggery Kinnathappam- Baked and Gluten Free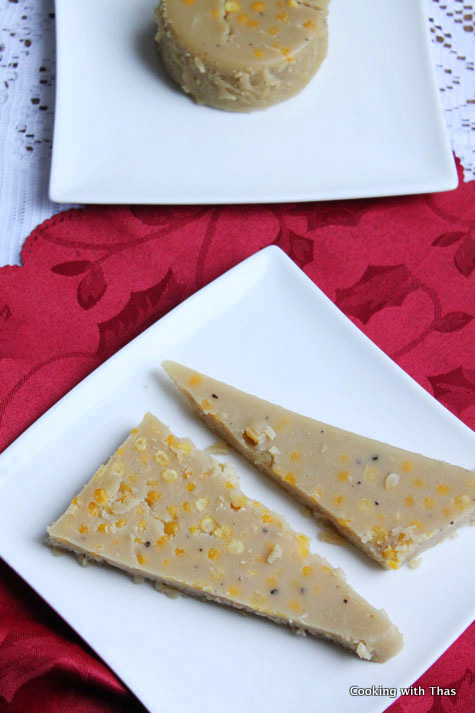 Rice flour- 1½ cups ( I used unroasted flour)
Melted Jaggery or Brown cane sugar- ½ cup
Coconut milk- 2 cups (not too thick)
Water- ¼ cup
Chana dal, cooked- 3 tbsp (optional)
Ground cardamom pods- 2 or ¼ tsp
Ghee or clarified butter- to grease the pan and to drizzle over kinnathappam
Preheat oven to 350 F.
First melt the jaggery or brown cane sugar along with water. I used around 150 g of jaggery or brown cane sugar and ¼ cup water. Let it cool down a bit.
Cook chana dal in water till it turns soft, don't mash it.
In a large bowl, combine rice flour, melted jaggery, coconut milk, water and ground cardamom without lumps. You could slightly blend the mixture in a blender.
To the mixture, add cooked chana dal and combine well.
I poured the batter into 2 cake pans as I didn't want it to be too thick. You could make just one if you prefer, it will be a thick kinnathappam.
Grease the pan generously with ghee, pour the batter into it and drizzle the top with ghee.
Pour water to a large rectangle or round baking pan, fill only 1 inch of the pan with water.
Cover the pan with the batter with aluminum foil.
Place the pan with the batter into the large pan with water (water bath).
Place it in the preheated oven at the lower rack and bake for 30 to 35 minutes or until a fork inserted into the center of it comes out clean.
You could even steam cook it over stove top. Grease ramekins or pans with ghee, pour the batter. Fill a large pan with 1 inch water, cover the ramekins with aluminum foil and place it into the water bath, cover the pan with its lid, steam cook for 20 to 25 minutes or till cooked well.
Remove the pan from the oven and remove the pan with the kinnathappam from the water bath, allow it to cool down.
Run a knife through the sides of the pan and flip it over onto a plate.
Cut to desired shapes and serve chilled.
Leftovers can be refrigerated.