Lemon Cake with Lemon Filling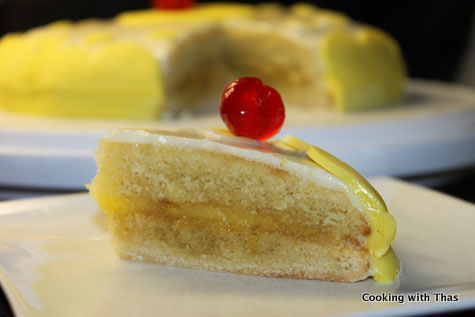 All purpose flour or gluten free flour- 2 cups
Baking powder- 2 tsp
Salt- 1 tsp
Butter, unsalted- ½ cup
Sugar- 1¼ cups
Egg, at room temperature- 3, large
Vanilla extract- 1 tsp
Milk- 1 cup
Cornstarch - ½ tbsp
Butter- 3 tbsp
Fresh lemon juice-1/4 cup
Lemon zest, grated-1/2 tbsp
Sugar-1/4 cup+1/8 cup
Egg yolks, beaten-2
Confectioners sugar- 4 cups
Butter, softened- ½ cup
Fresh lemon juice- 2 tbsp
Lemon zest, grated-1 tsp
Milk- 2 tbsp
Preheat oven to 350 F or 175 C.
Line the bottom of the two 8 inch cake pans with parchment paper and grease with butter. Keep aside
In a bowl, combine flour, baking powder and salt.
In another bowl, cream butter and sugar using an electric hand mixer.
Add eggs one at a time, beat til smooth.
Add vanilla extract and beat to combine.
Beat the flour mixture alternatively with the milk, mix until just incorporated.
Pour the batter to the cake pans and bake for 30 minutes or until a fork inserted to the center of the cake comes out clean.
Remove the cake from the oven, let cool down for 10 minutes.
Flip the cake over a wire rack and cool down completely.
In a saucepan combine cornstarch, lemon juice and lemon zest till smooth without lumps.
Add sugar and butter, cook over medium heat stirring continuously and let come to a boil.
Beat the egg yolks using a whisk, add a few tablespoons of the cooked lemon mixture to the beaten egg yolk, combine well.
Pour the beaten egg yolk to the lemon mixture in the saucepan, stir the mixture rapidly. Reduce the heat to low and stir continuously till the mixture turns thick. Don't boil the mixture.
Pour the mixture to a glass bowl. Press a plastic wrap over it to prevent skim from forming when it cools down
Let it cool down and refrigerate it for 2 hours.
In a large bowl, beat the confectioners sugar, butter, lemon juice and lemon zest till smooth
Pour the milk, beat at high speed till the frosting turns light and fluffy. Keep aside.
I made a 2 layer cake. (If you want you could make a 4 layer cake, if so cut each cake into halves and layer them, also double up the lemon filling to spread over each layer).
Spread the lemon filling over one of the cakes, place the other cake over it.
Cover the cake evenly with frosting.
Refrigerate the cake for an hour or so.
I decorated the cake with yellow colored fondant.
Dust the surface with confectioners sugar and roll the fondant over it.
I made many heart shapes and many small rounds out of the fondant.
I also made long ribbons, cut the ribbons using a ruler for precise measurement.
Wrap the sides of the frosted cake with the ribbon.
Place one of the heart shapes on the middle of the cake.
Place the small rounds around the heart shape.
Cut the other heart shape fondants into halves horizontally. Discard the tales and just use the top part.
Stick the cut heart shapes over the ribbon around the cake.
Place a cherry over the heart shape on the middle of the cake.
While serving, slice the cake and enjoy