Mulligatawny Soup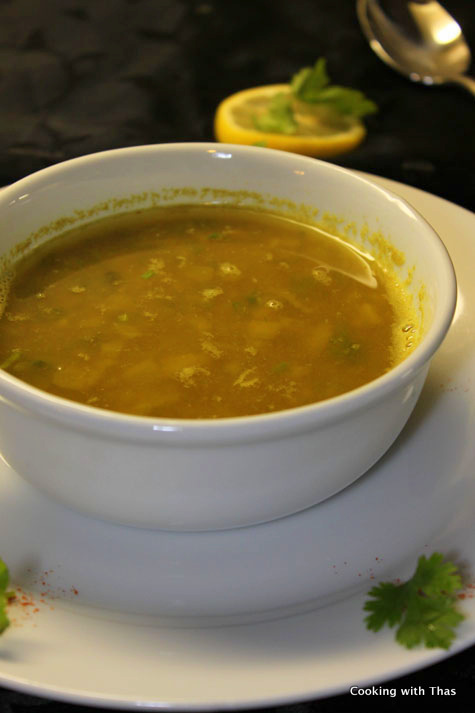 Ghee- 1 tbsp
Onion, chopped small- 1, medium
Garlic, minced- 4 cloves
Ginger, mashed- 2 tsp
Green chilies, chopped- 2
Ground cinnamon- ⅛ tsp
Ground cloves- ⅛ tsp
Ground coriander- 2 tsp
Ground cumin- 1½ tsp
Turmeric powder- 1 tsp
Whole cardamoms, slightly smashed- 4
Mashed potatoes- 1 tbsp
Red lentil, rinsed and drained- 1 cup
Chicken stock, low-sodium- 6 cups (or use chicken cubes 2 or 3 dissolved in water)
Lemon juice- 1 tbsp
Cooked white rice- ¾ cup ( I didn't add this)
Cooked chicken, shredded- 1 cup
Fresh cilantro, chopped- 2 tbsp
Cook one small potato in a microwave till it turns really tender. Remove the skin, mash it and keep aside.
Chop 1 chicken breasts to small slices, sprinkle with ¼ tsp ground pepper and a little salt, cook covered till chicken has cooked well. Chop the cooked chicken into bite-size slices and keep aside.
Place a large soup pot or pan over low heat.
Add ghee, let it melt.
Add onion, garlic, ginger, green chilies, ground cinnamon, ground cloves, ground coriander, ground cumin, turmeric powder and whole cardamoms.
Cook till onion has browned and the mixture turns aromatic.
Add mashed potato, red lentils and chicken stock to the pan.
Cover the pan and simmer for 15 to 20 minutes.
After lentil has cooked well, discard the cardamom pods.
Puree the soup in a blender at low speed. The soup is very watery so puree at low-speed.
Return the pureed soup to the pot.
Add lemon juice and cilantro, combine well.
Add cooked shredded chicken and rice if adding, stir until heated through.
Serve in soup bowl and garnish with cilantro if needed.
Enjoy this delicious and aromatic soup with naan or flat bread.