Aromatic Chicken-Pepper Stir Fry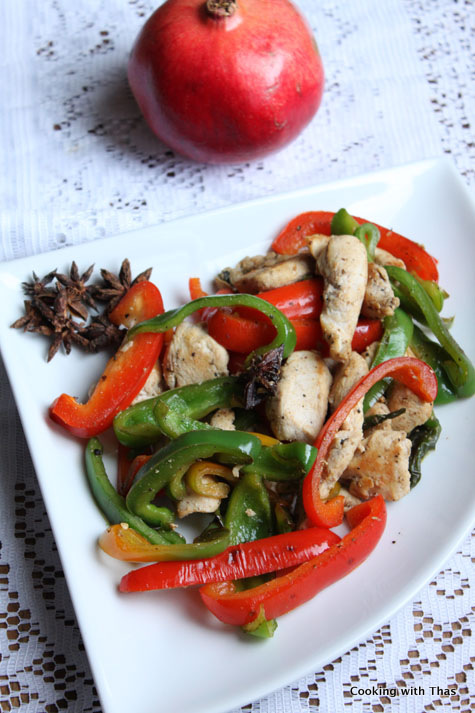 Chicken breasts or thighs, cut into wedges- 3 breasts or thighs
Freshly ground peppercorns- 1½ tsps
Salt- to taste
Oil- 3 tbsp
Whole cardamom- 2
Whole cloves- 2
Star anise seed- 1, large ( must add)
Bay leaves- 2
Whole peppercorns- 1 tsp
Green chili, cut lengthwise- 3
Oil- 1 tbsp
Green pepper, cut into wedges- 1 or 2
Red pepper, cut into wedges- 1 or 2
Ground pepper- ¼ tsp
Salt- to taste
Cut the chicken into thin wedges, combine with freshly ground peppercorns and salt, keep aside for 5 minutes.
Place a large wok or non-stick pan over medium heat, add oil.
Add whole cardamom, cloves, star anise, bay leaves, whole peppercorns into the oil, saute till the spices get aromatic.
Add the green chilies to the spices, saute for a few seconds.
Add the chicken wedges, stir fry till the chicken has cooked well and turns light golden brown.
Remove the chicken from the pan and keep aside.
In the same pan, add 1 tbsp oil, add the green pepper and red pepper, season with ground pepper and salt.
Stir fry for a few minutes till the peppers are just cooked, don't over cook them it should stay crisp.
To the cooked peppers, add the cooked chicken, combine well and cook for a minute.
Remove the pan from the heat, discard the green chilies serve with rice, wrap it in a tortilla, pita bread or chapati.