Whole Chicken Curry Roast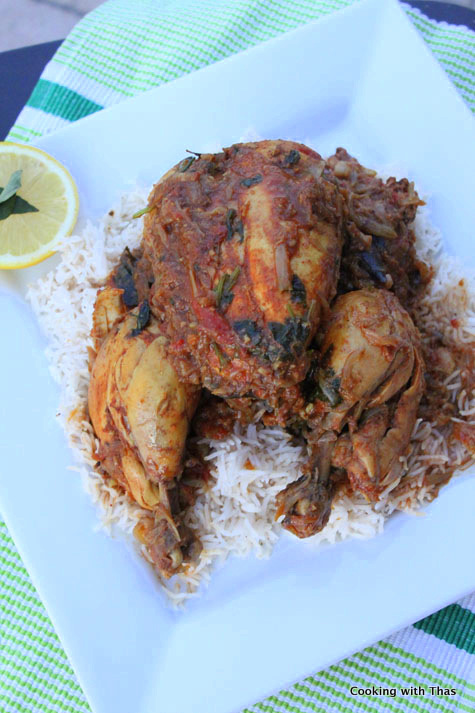 Whole chicken, de skinned- 1.5 kg or 3 lbs
Ginger-Garlic paste- 1 tbsp
Kashmiri red curry powder- 2 tsp
Turmeric powder- ¼ tsp
Garam masala- 1 tsp
Coriander powder- 1½ tsp
Fennel powder- 2 tsp
Salt- to taste
Water- 2 tbsp
Garlic, chopped- 3 cloves
Ginger, chopped- 2 inch slice
Green chilies- 3 (or use more if you want it spicy)
Oil- 2 tbsp
Shallots or red onions, cut thin and long- 10 large shallots or 4 large red onions
Tomatoes, chopped- 2, large
Curry leaves- 1 sprig
Cilantro, chopped- ¼ cup
Salt- to taste
In a small bowl, combine the ingredients mentioned above "to marinate whole chicken" to a smooth paste.
Spread it over the cleaned whole chicken, cover with plastic wrap and refrigerate for 30 minutes or overnight.
In a blender, grind the above mentioned ingredients to a smooth paste.
Heat a large pressure cooker over medium heat, add oil.
Add shallots or onions to oil, add little salt to it and saute till it turns translucent.
Add curry leaves to the onion.
Add the ground ginger/garlic/green chili mixture to the onions and cook for sometime.
Add chopped tomatoes and cook for a couple of minutes.
Place the marinated whole chicken into the pressure cooker.
Rinse the bowl used for marinating the chicken with ¼ cup water and add it to the pressure cooker.
Cover the pressure cooker with its lid and place the whistle on it.
Let cook for 30 minutes or until whole chicken has cooked well.
Open the cooker after the pressure has subsided, garnish the cooked chicken with chopped cilantro.
Taste and add more salt or chili powder if needed.
If the gravy is watery, cook uncovered till the gravy thickens.
Make sure you don't over cook the chicken as it will fall apart.
Serve the whole chicken over basmati rice and spread the gravy over the chicken.
You could use chicken pieces instead of whole chicken.
Recipe by
Cooking with Thas - Healthy Recipes, Instant pot, Videos by Thasneen
at http://www.thasneen.com/cooking/whole-chicken-curry-kerale-style-whole-chicken-curry/