Shrimp and Potato in Roasted Coconut Gravy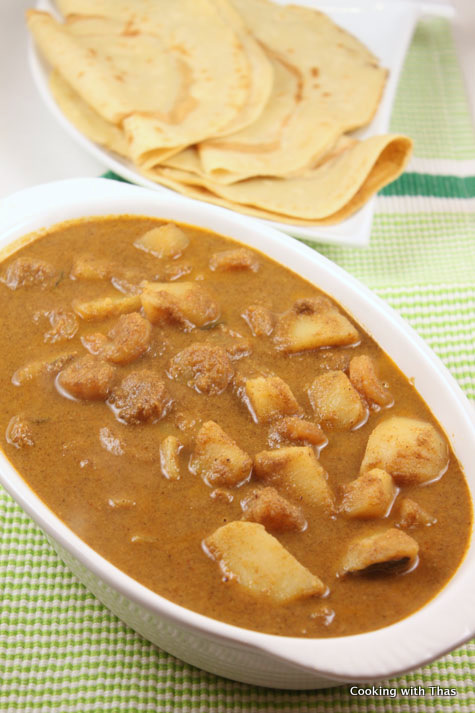 Oil- 1 tbsp
Coconut, grated- 1½ cups
Shallots or small onions- 3 to 4 chopped (if using large shallots use only 1)
Cinnamon stick- 2 inch slice
Fennel powder- 2 tsp
Coriander powder- 2 tsp
Turmeric powder- ⅛ tsp
Kashmiri red chili powder- 1½ tsp (or use regular chili powder)
Water, while grinding- 1 cup
Potato, cubed- 4
Curry leaves- 1 sprig
Shrimp- 15 to 20 (vein and shells removed)
Water- to thin down the gravy of needed
Salt- to taste
Regular chili powder - ½ tsp or according to your spice level
Place a wide pan over medium heat, add oil.
Add grated coconut, small onions or shallots and cinnamon stick, let roast and keep stirring till coconut starts to turn light golden brown in color.
At this point, lower the heat and add all the other spices: chili, fennel, coriander and turmeric powders.
Stir along with the coconut for a minute and remove from the heat.
Let cool down and grind the roasted coconut along with ¾ cup water to a smooth paste constituency.
Place a large pan over medium heat.
Add potatoes along with ¼ cup water, cover and cook till potatoes turn just tender. Don't over cook the potatoes.
Add the shrimp along with the curry leaves, cook covered for a few minutes till shrimp turns pink.
Add the ground roasted coconut paste, combine well.
Add ¼ to ½ cup water to thin down the gravy.
Add salt to taste.
Have a taste and add more chili powder if needed.
Combine well and cover the pan with its lid. Cook for 10 to 15 minutes.
Let the gravy bubble up and come to a boil.
Open the lid and combine everything well.
Remove from the heat and keep covered for sometime.
This curry goes really well with Orotti or rice roti.
Serve with rice, chapati, orotti, pathiri etc or just drink it up :)
Vegetarians can make this just with potatoes.
Kashmiri red chili powder is not that spicy so if you are using regular chili powder add according to your needs.
This curry can be refrigerated and it tastes better the next day.
The gravy will thicken up the next day, so add some water while heating it and adjust the salt.
This curry tastes phenomenal when cooked in a clay pot. Those who have clay pots (I call them lucky), make sure to cook in that.
Recipe by
Cooking with Thas - East Instant Pot Recipes and more
at http://www.thasneen.com/cooking/shrimp-and-potato-in-roasted-coconut-gravy/