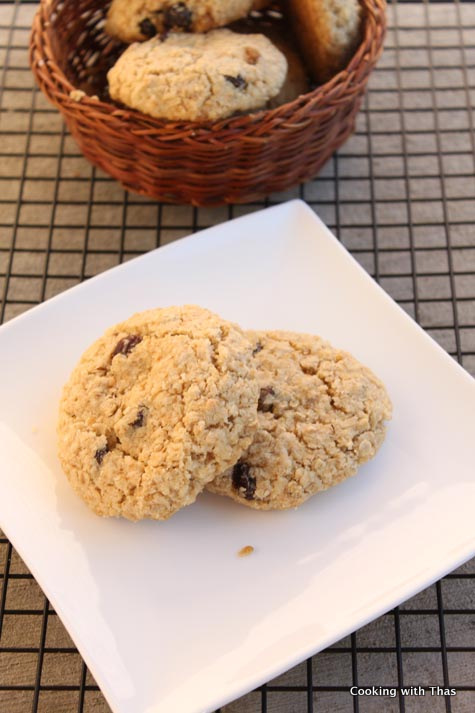 Easy to make oats cookies, tastes delicious and crunchy…
I have been making a lot of fried snacks lately, and I really wanted to take a break from all the fried goodness. While thinking of baked snacks, I thought of the cookie one of my friends had shared with me. Even now I remember how my taste buds went crazy after taking the first bite of that cookie. With each bite, I tried to find out what all it had which gave it that mesmerizing taste. I could taste the oats, raisins and walnuts in it. It just melted into my mouth.
I wanted to bake it in my kitchen, so the very next day I called up my friend and made her reveal the secret recipe. I was surprised to know that it was one of the easiest cookies to make. Now, this cookie totally agrees with my criteria of being quick and easy. I love to make things quick and without spending much time in the kitchen. All the ingredients to make this cookies were there in my pantry. Right after hanging up the phone, with so much excitement I started to bake. This cookie totally falls into the healthy category as it has oats and is eggless. So, health freaks no need to have any second thoughts.  Get into your kitchen, bake these cookies and indulge in it.
How to make Easy Eggless Oats Cookie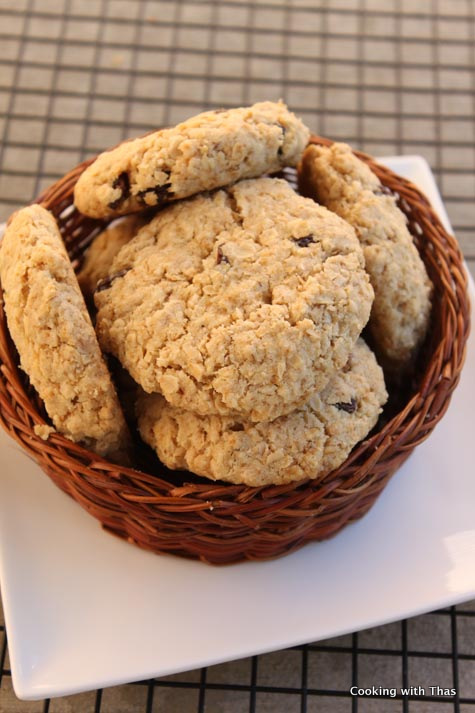 Makes: 12 cookies

Eggless Oatmeal Cookie
Prep time:
Cook time:
Total time:
Ingredients
Instant Oats- 1½ cups( I used Quaker instant oats)
All purpose flour-1/2 cup
Baking powder-1/2 tsp
Vanilla extract-1tsp
Raisins-1/4 cup
Walnuts or pecans, chopped-1/4 cup
White sugar-1/2 cup
Brown sugar-1/4 cup
Butter( slightly melted)-1stick or 8 tbsp or ½ cup
Instructions
Preheat oven to 350 degrees F.
In a large bowl, mix the Oats, flour, baking powder, vanilla extract, raisins and walnuts or pecans.
Cream the butter and sugar together till smooth in a stand mixer or using an electric hand mixer.
Add the dry ingredients into the creamed butter-sugar mix. Beat it at medium speed for a minute or till incorporated.
Make medium sized balls, flatten it between the palm of your hands and place them on a baking sheet lined with parchment paper.
Don't crowd the cookies while placing them on the baking sheet.
Bake for 20 to 25 minutes.
The cookies won't be firm enough when it is taken out of the oven, allow them to cool down for 5 to 10 minutes, it will turn firm and crispier as it cools down.
Enjoy these delicious oats cookies with a cup of coffee or tea.