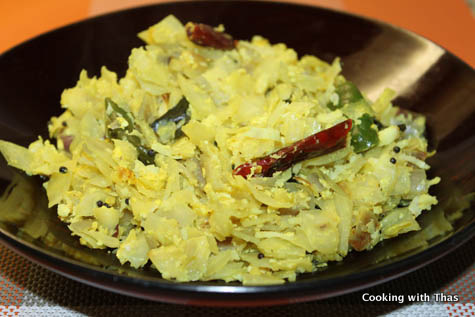 One of my favorite ways to make cabbage with the egg added to it…
I don't make too many dishes with cabbage, usually it would be stir fries. I like to flavor up the bland cabbage by adding eggs to it. This is one dish that I make whenever I have cabbage in my refrigerator. This can be served as a side dish with rice or can be wrapped in chapati, tortilla or roti.
Preparation Picture
Cooking cabbage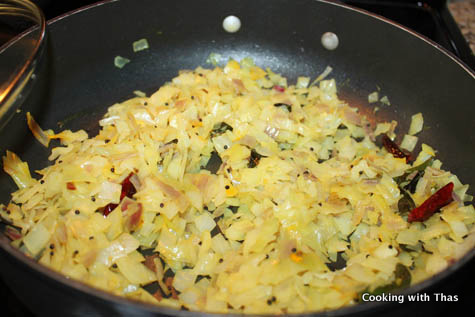 Adding eggs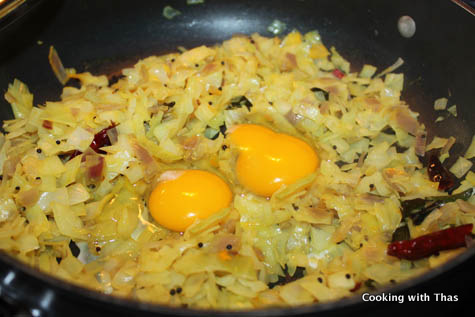 Egg cabbage
Easy Egg Cabbage Stir Fry
Prep time:
Cook time:
Total time:
Ingredients
Oil- 2 tbsp
Mustard seeds- 2 tsp
Cumin seeds- 1 tsp
Whole dry red chili- 2
Curry leaves- 1 sprig
Onion, chopped- 1
Green chili, chopped- 3
Cabbage, grated- ½ of a medium cabbage
Water- ¼ cup
Eggs, large- 2
Turmeric powder- ¼ tsp
Coconut grated- ½ cup
Ground pepper- ½ to 1 tsp
Salt- to taste
Instructions
Place a pan over medium heat, add oil and let it turn hot.
Add mustard seeds, let it splutter.
Add cumin seeds and whole dry red chili, saute for a second.
Add onions, curry leaves, green chilies and a few dash of salt, saute till translucent.
Add cabbage along with water, cook covered till cabbage has turned tender.
Open the lid and cook till the water dries off.
Move the cabbage to one side of the pan and crack the eggs on the other side.
Scramble the eggs and combine with the cabbage, let the eggs cook.
Add turmeric powder and ground pepper, combine well and cook for a couple of minutes.
Add grated coconut, stir fry till coconut turns light golden in color.
Taste and add more salt and ground pepper if needed.
Serve as a side dish with rice, or wrap it in chapati, tortilla, rotis etc.