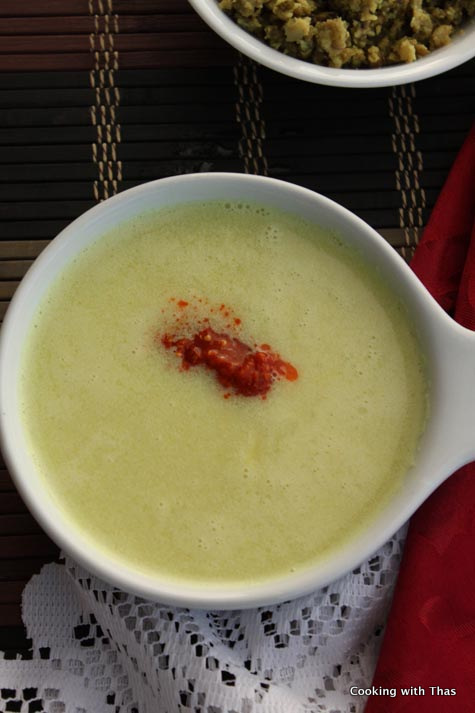 During Ramadan fasting season, one dish I look forward to while breaking the fast is this Creamy Rice porridge or knaji. There are a different ways of making this. Here I am posting a quick and easy recipe, which is more like a comfort soup on any day.
Creamy Rice Soup or Ramadan Kanji or Nombu Kanji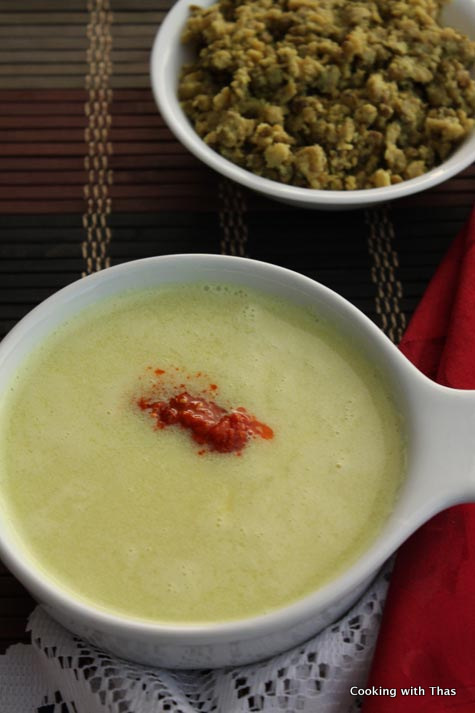 Making Ramadan Kanji or Nombu Kanji
Creamy Rice soup or Ramadan Kanji
Ingredients
To cook Rice
Rice-1 cup (Ponni or Sona Massori or Par boiled Rice)
Fenugreek seeds- 1 tsp
Garlic minced- 1 tsp
Salt- ½ tsp
Water-2 cups
To grind
Coconut, grated ( fresh or frozen)- 1 cup
Cumin seeds-1 tsp
Turmeric powder-1/2 tsp
Water- 2 cups
Other Ingredients
Coconut milk-1 cup
Salt- as required
Instructions
In a pressure cooker, cook the rice along with the above mentioned ingredients "to cook rice".
In a blender, grind the grated coconut with cumin seeds and turmeric powder along with 1 cup of water, don't make it into a smooth paste, this grinding is to get the coconut milk out of it.
Pour the ground mixture into a strainer and strain the coconut milk into the cooked rice.
Grind the strained coconut one more time with 1 cup water and strain the coconut milk to the cooked rice. Combine well
Add the coconut milk. Combine well.
Heat the mixture, but don't over boil it.
Taste and add more salt based on your needs.
If the soup is thick add more water or coconut milk to thin down.
Serve hot in a soup bowl and serve it with pickle of your choice.