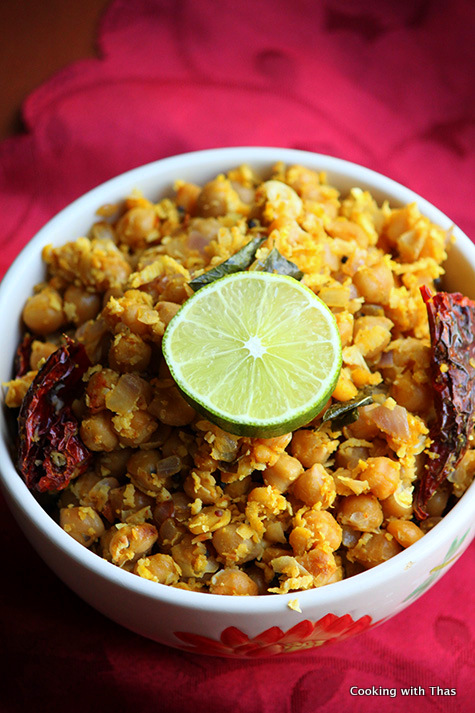 A healthy snack using chickpeas that's rich in protein and fiber made in the Instant Pot…
Yes, I'm still obsessed with Instant Pot and have been making a lot of dishes in it. The other day, I cooked chick peas in the Instant Pot. I didn't even soak the chickpeas in water, I put the dried chickpeas in the instant pot along with water and cooked at high pressure for 30 minutes. Chickpeas was perfectly cooked and tasted delicious. Goodbye to canned chickpeas.
I made Sundal with the cooked chickpeas. Sundal is a South Indian snack made with chickpeas or it can also be made with different kinds of lentils. Basically, chickpeas is stir fried with coconut and some seasonings. Easy to make, healthy, tastes delicious and it's quite filling.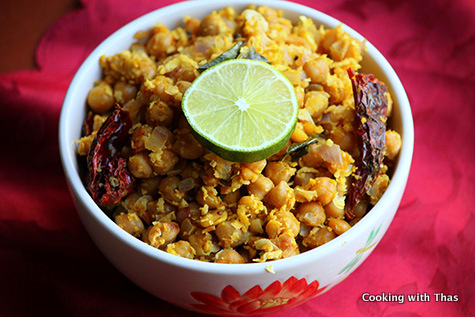 Cooking Video:
To know more about Instant Pot or to shop, click here


Chickpeas Sundal Recipe- Instant Pot Recipes
Prep time:
Cook time:
Total time:
Ingredients
Chickpeas, cooked- 3 cups
Oil- 2 tbsp
Mustard seeds- ½ tsp
Whole dry red chilies, halved- 2
Curry leaves- 1 sprig
Asafoetida- 2 pinches (optional)
Onion, chopped small- 1
Chili powder- ½ to 1 tsp
Turmeric powder- ⅛ tsp
Coriander powder- 1 tsp
Grated coconut- ½ cup
Lemon juice- 1 tbsp
Salt- to taste
Instructions
Cooking dried chickpeas in an Instant pot: Add 2 cups of dried chickpeas along with 4 cups water in an Instant pot. Click manual button, adjust pressure to high and set time to 30 minutes. After 30 minutes of cooking, click cancel and let the pressure release naturally.
Making Sundal in an Instant Pot
Click saute mode, let the pot turn hot and you will see hot displayed on screen.
Add oil, let oil turn hot.
Add mustard seeds, let it splutter.
Roughly break the dried red chilies and add to the oil.
Add curry leaves, saute for 2 seconds.
Add asafoetida, saute for 2 seconds.
Add onion, season with 2 pinches salt.
Saute till onion turns translucent.
Add 3 cups cooked chickpeas, combine well.
Add chili powder, turmeric powder, coriander powder and salt as required. Combine well.
Cook for a minute.
Add grated coconut, combine well and stir fry for a few minutes till coconut turns golden.
Finally, drizzle lemon juice, combine well and cook for a minute.
Chickpeas sundal is ready to be served.
Notes
if you don't have an Instant Pot- make the sundal in a wide non-stick pan.