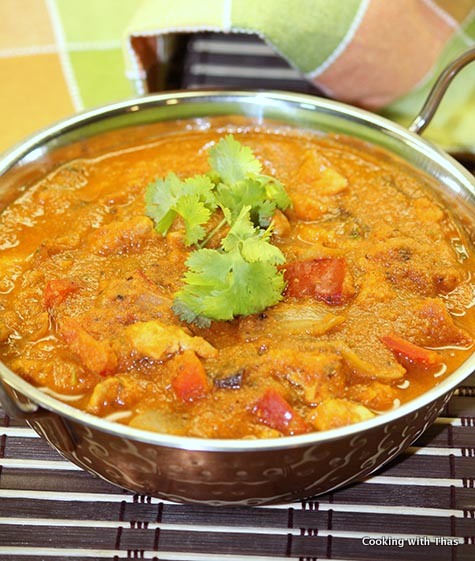 Chicken Tikka Masala, a popular Indian dish that's found on the menu of Indian restaurants…
In North America, two popular Indian dishes that's served in almost all Indian restaurants are butter chicken and chicken tikka masala. I've already posted the recipe for making Butter chicken and the recipe for making shrimp tikka masala.
Blogging about the recipe for making chicken tikka masala had been in my mind for so long. Finally, on a freezing snowy cold night, I made chicken tikka masala for dinner. Freezing cold weather does enhance my appetite and I get the craving for having different kinds of food. So, today's craving was for chicken tikka masala.
This recipe turned out delicious and can be served along with naan, chapati, roti or rice.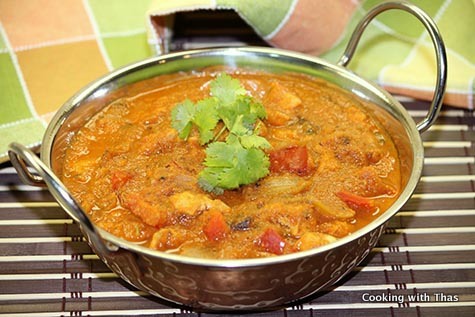 How to make Chicken Tikka Masala cooking video:
Chicken Tikka Masala Recipe
Prep time:
Cook time:
Total time:
Ingredients
For Marinating Chicken and Veggies
Yogurt- ¾ cup
Ginger-Garlic paste- ½ tbsp
Kashmiri red chili powder- 1 tsp
Turmeric powder- ⅛ tsp
Coriander powder- 1½ tsp
Cumin powder- ½ tsp
Garam Masala- ½ tsp
Salt- ½ tsp
Lemon juice- 1 tbsp
Chicken, cubed- 1 lb or ½ Kg
Red pepper, diced- 1
Onion, diced- 1
For Cooking
Oil- 1 tbsp
Onion, chopped- 2
Tomatoes, chopped- 2
Chili powder- ¾ tsp
Coriander powder- 1 tsp
Garam Masala- ¾ tsp
Tomato paste- 2 tbsp
Salt- ½ tsp
Dried Fenugreek leaves- 1 tsp (or use dried oregano)
Cilantro, chopped- 2 handfuls
Instructions
In a large bowl, combine yogurt, ginger-garlic paste, Kashmiri chili powder, turmeric powder, garam masala, coriander powder, cumin powder, salt and lemon juice. Combine well.
Add cubed chicken, red pepper and onion to the yogurt mix and combine well.
Let marinate for 30 minutes.
Place a non-stick pan or grill pan over medium heat, add 2 tbsp oil.
Place the marinated chicken and veggies on the pan and cook till golden brown.
Save the marinade that's left in the bowl.
Keep aside the cooked chicken and veggies.
Place a large non-stick cooking pan over medium heat.
Add 1 tbsp oil.
Add onion, season with a few pinches of salt, cook for 2 minutes.
Add tomatoes, cook for a few minutes.
Transfer the cooked onion and tomatoes into a blender, add 1 cup water and puree till smooth.
Pour the pureed onion-tomato onto the pan. Cook for a minute.
Add chili powder, coriander powder and garam masala, combine well.
Add tomato paste, combine well.
Add the leftover yogurt marinade that's left in the bowl after cooking chicken and veggies.
Season with salt and mix well.
Cook covered for a few minutes.
Add the cooked chicken and veggies, combine well.
You can add ¼ cup water to thin down the gravy.
Cook covered for 3 to 4 minutes.
Taste and add more salt if needed.
Add dried fenugreek leaves and cilantro, combine well and cook for a minute.
If you prefer you could add ¼ cup cream to make the sauce creamy, I didn't add the cream.
Serve into a bowl and enjoy with naan, chapati or rice.