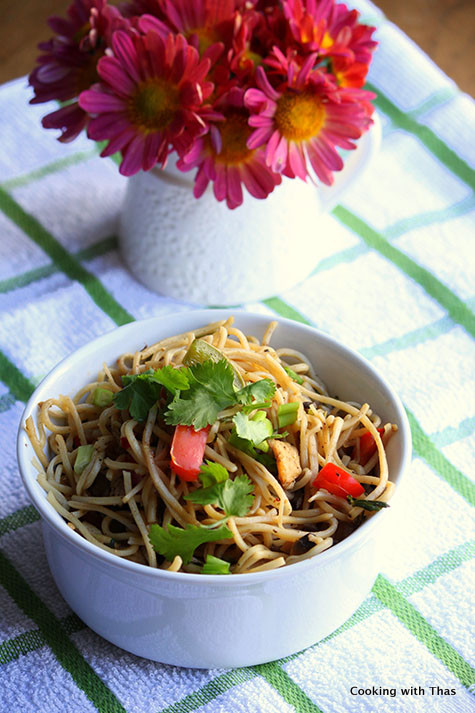 Chicken, veggies and chow mein noodles stir fried together to make an excellent one pot meal…
Chicken noodle stir fry is one of my favorites and I make this quite often as this can be made effortlessly and one plate of this has everything in it. This is one such recipe that can be made ahead of time and can be packed for next day's lunch or dinner.
Among the noodles, my most favorite is chow mein noodles as this noodles is soft yet crispy and has an amazing taste.
I used Asian sauces like soy sauce, hoisin sauce and for spice I added Sambal Oelek or chili paste. Marinated chicken was cooked and stir fried, followed by stir frying the veggies and then added chow mein noodles and stir fried everything together. Tastes delicious and this will turn into one of your favorite dishes too.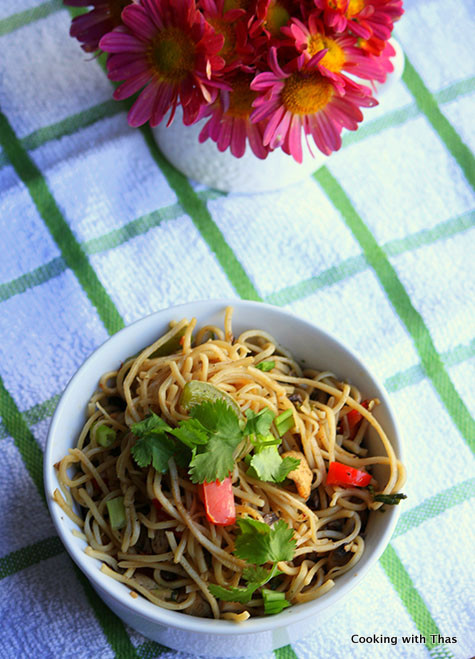 Chicken Noodle Stir Fry- Chicken and Chow Mein Noodles
Prep time:
Cook time:
Total time:
Ingredients
For marinating Chicken
Chicken breasts or thighs, cut into thin wedges- 2 breasts or thighs
Soy sauce- 1 tbsp (use low-sodium)
Hoisin Sauce- ½ tbsp
Sambal Oelek- 1 tsp
Ground pepper- ½ tsp
For making Stir fry
Oil- 3 tbsp
Green pepper, julienned- 1
Red pepper, julienned- 1
Mushrooms, sliced thin- 1 cup
Soy sauce- 2½ tbsp
Hoisin sauce- 2 tbsp
Sambal Oelek- 1 tsp (or use chili sauce)
Rice vinegar- 1 tbsp (optional)
Chow mein noodles- 1 packet
Green onions, chopped small- 2 stalks
Cilantro, chopped- 2 handfuls
Instructions
In a bowl, combine the chicken with the above mentioned ingredients "for marinating the chicken" and marinate for 5 minutes.
Fill ¾ of a pan or pot with water, place the pan over medium high heat, let the water come to a boil. Add the chow mein noodles and cook for 5 to 7 minutes till the noodles turn soft. Do not over cook the noodles. It should be slightly crispy. Drain the water and keep aside the noodles.
Place a wok over medium heat, add 1 tbsp oil. Add the chicken into the oil and cook covered.
Cook till the water that oozed out of the chicken has dried out, stir fry the chicken over high heat till it turns light brown.
Transfer the chicken into a bowl, keep aside.
In the same wok, add 2 tbsp oil.
Add the green pepper, red pepper and mushrooms, cook over medium high heat for a few minutes till the veggies turn tender, stir fry over high heat till light brown spots appears on the veggies.
Add the cooked chicken.
Add soy sauce, hoisin sauce, rice vinegar and sambal oelek. Stir fry everything.
Add the chow mein noodles and stir fry for 3 to 4 minutes.
If it's too dry, add 2 to 3 tbsp water and stir fry for a minute.
Finally, add green onions and cilantro, stir fry for a few seconds and remove the wok from the heat.
Serve the chicken noodle stir fry in bowls and enjoy when it's warm.