Cauliflower haters are going to fall for this, cauliflower lovers are going to make this over and over…
When I came to know that my hubby dislikes cauliflower, the first thing that came out of my mouth was "Are you kidding me?". How can someone hate cauliflower? Aren't they just adorable? They look so pretty and to me they resemble wedding gowns. My hubby dislikes it for no apparent reason, on the other hand I love it. I can enjoy anything that's made with cauliflower: fritters, gobi manchurian, mashed cauliflower, baked or roasted cauliflower, etc. The other day, when I told him that I am going to make cauliflower for dinner, he had made a few requests for not making it. I was so eager to make something out of the cauliflower that was sitting in my refrigerator.
I did stick to my plan of making cauliflower for dinner. I couldn't find any other way but trick my man. That's what we should if someone hates certain veggies for no apparent reason. Who's with me on this? Honestly, when I started cooking I had no clue about how to hide the cauliflower. I first cooked onions and cauliflower together, many thoughts flashed through my mind: drizzle some sauce over it, combine with chicken, puree it. Puree it? aha that's exactly what I wanted so that at least the cauliflower is hidden. I added tomato sauce and italian seasoning to the cooked cauliflower and pureed it. Looked perfect to me! Next question was: how am I going to serve this puree? Something was certainly missing in it.
That's when the idea of putting chicken balls into the cauliflower sauce struck me. I had no doubt that my man was going to love this, enjoy it and lick it

To make it healthy, I baked the seasoned chicken balls and combined with the cauliflower sauce.
My man couldn't even believe that this dish actually had cauliflower added to it, he neither tasted it nor sensed it. He was seen gobbling it up. I couldn't find a better way than this to hide cauliflower. I can only say that I did succeed in feeding a picky eater. Yay, for me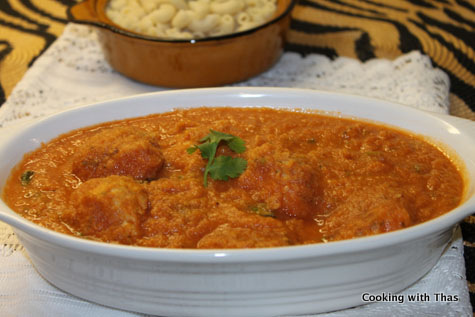 Step by Step Pictures
To see all the 888 recipes published so far, please go to the recipe index.
Thas is the author of Cooking with Thas, a popular food blog with recipes from Indian, American and Fusion Cuisines. She has been blogging for over 6 years and been featured in several magazines. Thas presents simple and healthy recipes along with traditional recipes from her family.