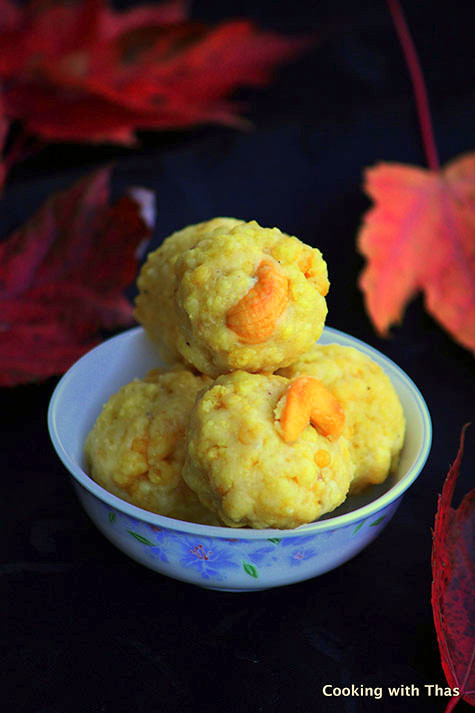 Boondi, fried chickpea flour (besan) when combined with sugar syrup and made into rounds yummy ladoos are formed…
One of the most famous traditional sweets in India is Ladoo, and is devoured by everyone during special occasions, festivals or on any day when there is a craving for sweets. This is one of the sweets that can be found in almost every sweet stores, and are mostly found stacked up like a pyramid on a large tray. In India, when people have any happy moments or celebration ladoos are served. Ladoos have been always the embodiment of happiness and celebration.
Now, I can gladly strike off ladoo from my top-to do list. Honestly, I'd been thinking of making ladoo from scratch for so very long and I kept postponing it for no particular reason. For the past couple of weeks, I've been seeing all the Diwali sweets on my FB news feed and one of the sweets that kept bugging me was ladoo. It kept saying- "Make me in your kitchen and you are going to love me even more". I kept resisting the temptation, but when it started coming into my dreams  I didn't have any choice but make them in my kitchen.
Even though, ladoo recipe calls only for a few ingredients, I was aware that making the perfect ladoos are not going to be easy. Also, this was the first time I'm making ladoos so I was extremely careful while making them and made sure not to disappoint myself.
Basically, there are 2 major steps in making ladoos. One is the frying of chickpea flour called boondis, the chickpea batter has to have the perfect constituency to make the perfect round shaped boondis. And the other is making the sugar syrup, it should have the right thickness- usually one string constituency. If you make these 2 elements perfectly, then you are almost there. The final step is combining the boondis in the sugar syrup which are then made into round shapes.
Don't be intimidated; carefully follow the steps, just have fun and do it with all heart- you will get to indulge in these ladoos and they taste better than the store bought ones.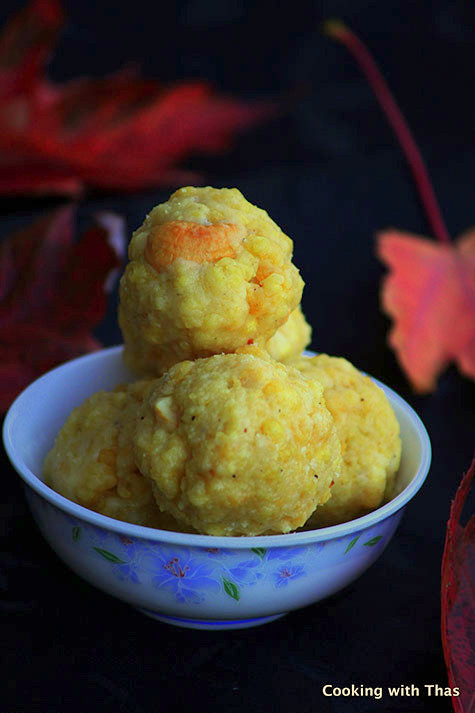 Preparation Pictures
Making sugar syrup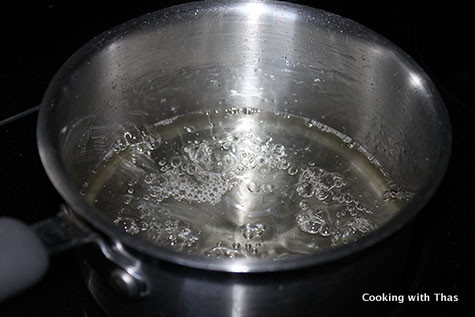 Frying Boondi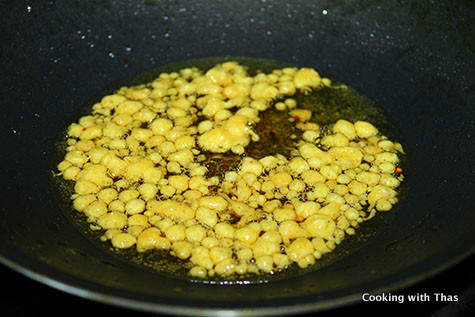 Adding boondi to sugar syrup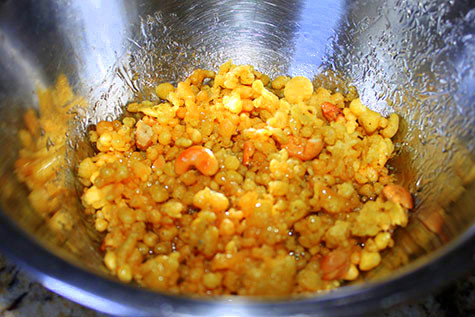 Boondi Ladoo Recipe - Laddu or Ladoo Recipe
Prep time:
Cook time:
Total time:
Ingredients
For making Boondi or fried chickpea batter
Chickpea flour or gram flour/besan- ½ cup
Baking soda- a pinch
Water- 1/ 4 cup (to make not so thick nor thin batter)
Yellow food color- a pinch if it's powder or 1/ 4 to 1/ 2 tsp if liquid
Oil- enough for deep frying
For making sugar syrup
Sugar- 3/ 4 cup
Water- 1/ 4 + 1/ 8 cup
Other ingredients
Cashew nuts, halved- 8, roasted in 2 tsp ghee
Raisins- 1/ 2 tbsp, roasted in ghee (I didn't add)
Whole Cardamom- 1
Whole cloves- 1
Instructions
This recipe makes 8 ladoos, for making more double the recipe accordingly.
Roast cashew nuts in 2 tsp ghee till golden in color, after that roast raisins till they bubble up. Keep them aside.
Crush the cardamom seeds and cloves into a coarse powder using a mortar and pestle, Keep aside.
First let's make the boondis.
Into a bowl, sift the chickpea flour and baking soda together.
Add water little by little till the batter has a not so thin nor thick constituency. Combine with a whisk. I added 1/ 4 cup water, if you need more add in small additions.
Add yellow food color and combine well.
To test the batter constituency, pour some batter through a slotted spoon, if the batter falls like drops through the spoon it's good. If the batter is flowing too fast, you have to add little more flour and make it thick. If too thick add little more water.
Heat oil in a frying pan over medium heat, let the oil turn hot.
Hold the slotted spoon over the oil using your left hand (don't hold it too close to oil, it has to be a few cms above the oil).
Using a large spoon, pour the batter over the slotted spoon and spread the batter using the back of the spoon. Batter in the form of drops would fall into the oil.
Fry the boondis in oil, keep turning them using another slotted spoon so that they are evenly cooked.
The boondis shouldn't turn very crispy, when it's almost cooked through transfer them using the slotted spoon on a paper towel.
Repeat the above steps, before pouring the batter on the slotted spoon, make sure to wipe it with a paper towel to make sure the holes are not clogged.
After you fry the boondis, make the sugar syrup.
Combine sugar and water in a saucepan. Place the pan over medium heat and boil the sugar syrup for about 15 to 20 minutes.
After 15 minutes of cooking, check the constituency of the sugar syrup: using a small spoon, place a little syrup on your index finger, close with the thumb and open the fingers if you see one string is forming then you have the right constituency. If not heat for a few more minutes and check frequently till you get one string constituency.
After the right constituency has reached, remove the pan from the heat.
Add the fried boondis into the sugar syrup along with roasted cashews, raisins, crushed cardamom, cloves. Combine well. Let the mixture cool down a bit, do not let it cool down completely.
You need to make the round shapes when the mixture is still warm.
When you make the round shape the sugar syrup will ooze out, it will solidify after it cools down and will hold the boondis well.
Allow the ladoos to rest for sometime so that it will be set well.
Enjoy these homemade boondis that actually taste better than the store bought ones.
Notes
The chickpea batter should have the right constituency- it should fall as drops when poured on the slotted spoon. If not adjust by adding more flour or water.

The sugar syrup should have a one string constituency- check between the index and thumb finger.

Do not fry the boondis till they turn crispy, you just need to cook them.

Add the boondis to the hot sugar syrup, let the mixture cool down a bit.

Make rounds when the mixture is still warm.

Increase the recipe accordingly to make more.