Whole spices roasted and ground to a paste and cooked with beef, aromatic and delicious…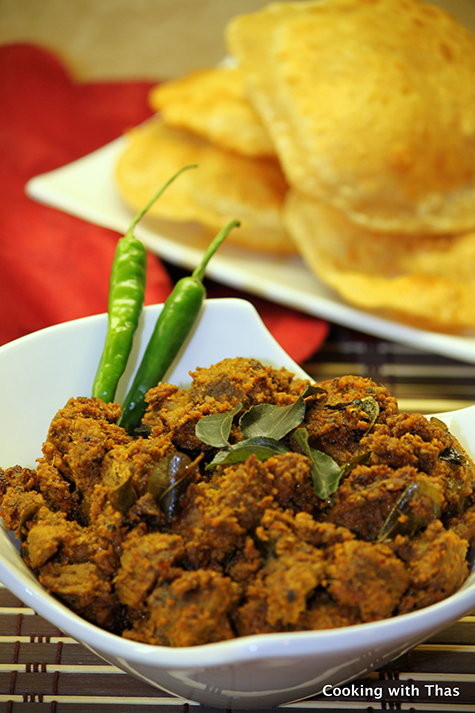 Cooking Video
Beef Roast Made with Roasted Whole Spices
Prep time:
Cook time:
Total time:
Ingredients
For cooking Beef
Oil- 2 tbsp
Beef, stew cut diced- ½ Kg or 1 lb (or use mutton)
Turmeric powder- ¼ tsp
Ginger-Garlic paste- 1 tbsp
Water- 1 cup
Salt- ¾ tsp
For roasting whole spices
Whole dry red chilies- 3
Coriander seeds- 1½ tbsp
Whole peppercorns- 1 tsp
Cumin seeds- ¾ tsp
Fennel seeds- 2 tsp
Whole cardamom- 2
Whole cloves- 2
Whole cinnamon- 2 inch slice
Star Anise- 1
For making paste
Ginger- 1 inch slice
Garlic- 1, clove
Tomatoes, diced- 2
Cilantro, chopped- 2 handfuls
Water- ½ cup
For stir frying beef
Ghee- 2 tbsp
Yogurt- ¼ cup
Beef broth or liquid that's left after cooking beef- ½ cup
Curry leaves- 1 sprig
Lemon juice- 1 tbsp
Salt- ½ to ¾ tsp
Instructions
Place a pressure cooker over medium heat, add oil.
Add diced beef along with turmeric powder, ginger-garlic paste, salt and water. Combine well.
Cover the cooker with its lid and place the whistle.
Cook for 25 minutes or till 3 whistles.
Let the pressure subside and open the lid, save ½ cup of the liquid in the cooker or the beef broth.
Keep aside the cooked beef.
Roasting whole spices
Place a pan over medium heat, add all the ingredients mentioned 'for roasting whole spices'.
Roast for 3 minutes till aromatic. Do not burn the spices.
Let the spices cool down a bit.
Into a blender, add the roasted whole spices, ginger, garlic, tomatoes, cilantro and water. Grind to a smooth paste.
Place a large non-stick pan over medium heat, add ghee.
Add the ground paste, rinse the blender with 2 tbsp water and add to the pan. Combine well and cook for a couple of minutes.
Add yogurt, combine well.
Add beef broth, combine well and cook over high heat till liquid has thickened.
Add ½ to ¾ tsp salt.
Add the cooked beef into the gravy, stir fry over high heat.
Add curry leaves and combine well.
Stir fry beef over high heat till all the liquid has dried off and the beef turns light brown.
Drizzle lemon juice over the beef and stir fry for a minute.
Remove the pan from the heat and keep aside covered for a few minutes.
Serve this along poori, chapati or rice.